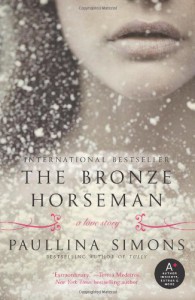 MY REVIEW
Set in a time and place where all hope is gone, where courage will be tested, where death is inevitable, where love blossomed inspite of chaos... the only way to survive is what you believed in, what you hoped for and what you loved...
It took me 7 days to finished The Bronze Horseman, it's a long read but it is worthy. Written beautifully its like I'm watching a movie, the story flowed smoothly and very clear. I thought I would be having a hard time imagining the characters and place because of the plot of the story which is set during the World War II, but I was wrong it was narrated and describe very clearly, I was mesmerize on how it was written, magnificent writing. It is hard for me to stop reading cause I want to know what happens next, reading their story is very addictive. Who would have thought that even in War two people can find solace in each other. And now I believe in love at first sight because of Shura!
The story captured my heart, I cried a lot cause i can feel her pain, his pain. Different kinds of emotion engulf me. It is the best love story that I've read.
I love Tatiana and I love Alexander. They are perfect for each other, their love is tested from the very beginning but they remain together despite the obstacles and struggles they encounter. Their love story is like a 'breath of fresh air' very innocent and pure. I admire Tatiana's devotion and strength and her undying love for Shura. And Shura I love him! All of him! He is perfect even with flaws. I love everything about him. Like Tania I would do everything for him. But every love story has its ending what awaits for them is for me to find out in book two.
Magnificent author, the story is beautifully written, it is not your ordinary love story, it shows the true meaning of Love, Sacrifice... For me I will rate it with endless star!